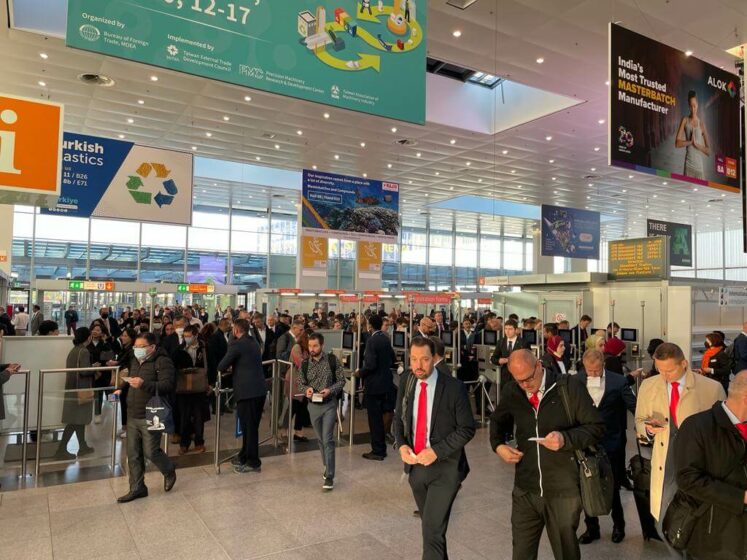 Thousands enter the gates of the Messe in anticipation for the start of K 2022. K 2022 reports attendance slips 21%, but still exceeds expectations!
K2022 Exceeded Expectations
The largest trade show in the world for rubber and plastics made its big return this year.
From Wednesday, Oct. 19 until Wednesday, Oct. 26, the K Show attracted over 176,000 attendees to the Messe Düsseldorf fairgrounds. While both attendee and exhibitor numbers were down from 2019, the total space available to exhibit across the fair's 17 halls increased to 179,000-m2 and numbers exceeded all expectations.
Despite the impact of the ongoing COVID 19 pandemic, particularly on potential visitors from China, as well as the ongoing conflict in Ukraine which wiped out Russian attendance altogether, Messe Düsseldorf noted that 70% of all K 2022 attendees were international. The show organizer also noted there was increased visitors from the U.S., Brazil, and India.

Hot Topics Driving Focus
As we await the final shipment of our Stand display to arrive back on home turf, we reflect on the magnitude of what is the world's no. 1 trade fair for plastics and rubber; K-2022.
During the eight trade fair days it became clear that this year's K was right on target with its selection of hot topics, circular economy, climate protection and digitalization. Machinery and equipment for processing and recycling stood out with a particular focus on sustainability, but also on circular economy and energy/resource efficiency in production.
Having interacted with hundreds of businesses, we found there was a significant shift in this year's focus. Many businesses were concerned with how their product and processes are going to meet EU regulations with upcoming plastic tax initiatives being implemented. In combination with this, they were also focused to learn how they can make their products and processes more sustainable – namely; Up-Cycling.
Flexibility to blend feedstocks of varying melt flow Indexes outside of traditional blending silos adding value to cheaper material stocks was a hot topic we discussed with many producers. Even with the significant difficulties that plastics producers have been facing; from rising energy costs, material shortages, responsibility for the state of the environment and the effects on their manufacturing practices, while sustaining growth, open collaboration to find new solutions was still ever-present during K-2022.
Solutions for Processors
Circular economy, Bio-Materials, as well as digitization for even smarter and more efficient production plants took the focus of many discussions – working together on future-oriented solutions. This is where our expertise was put to good use. Leading talks earlier in the year and more so recently via our latest webinar which you can find over on our YouTube Channel:
TSM @ K-2022: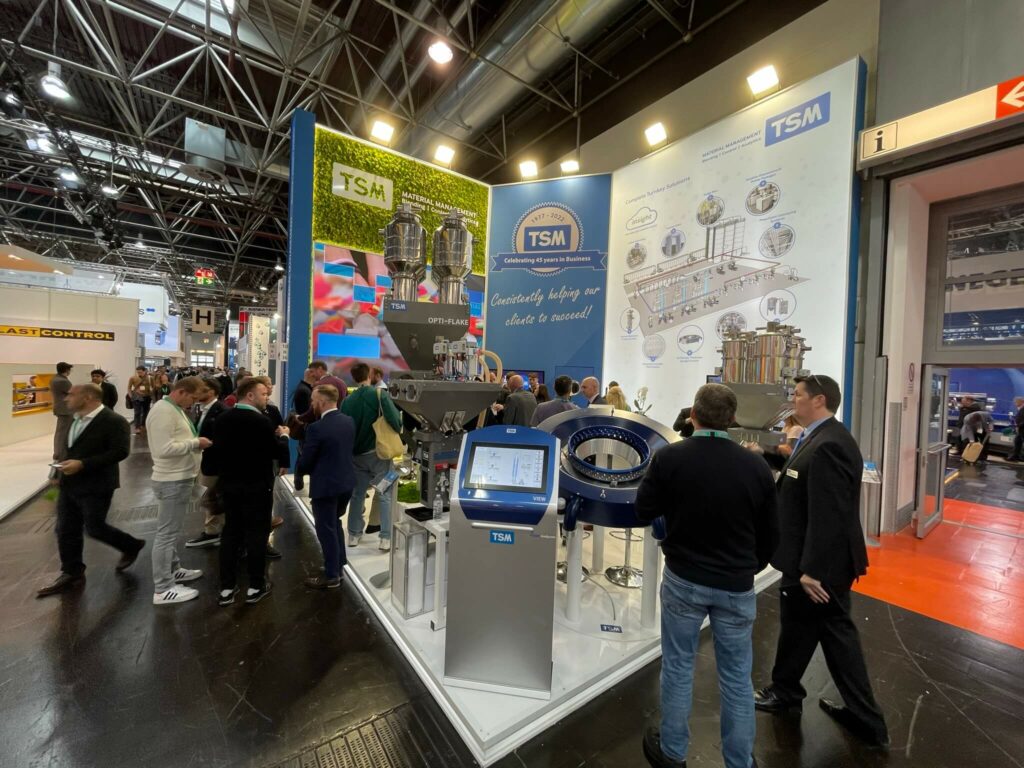 R&D at TSM has always been customer driven, this year we emerged at K 2022 with a product offering to tick all the boxes, and more. The Circular economy and digitization in mind, our Insight Industry 4.0 product and the launch of the Opti-Flake Unit aligned very clearly to the industries demands.
We displayed a series of products which contribute to recycling of post-consumer plastics, providing solutions for plastic producers to meet EU targets; By 2025, 50% of all products are to be made from recycled materials, increasing to 70% by 2027.
Up-Cycling; Opti-Flake:
The Opti-Flake Blender led most discussions, standing 4 meters tall on our display, the latest offering to the circular economy.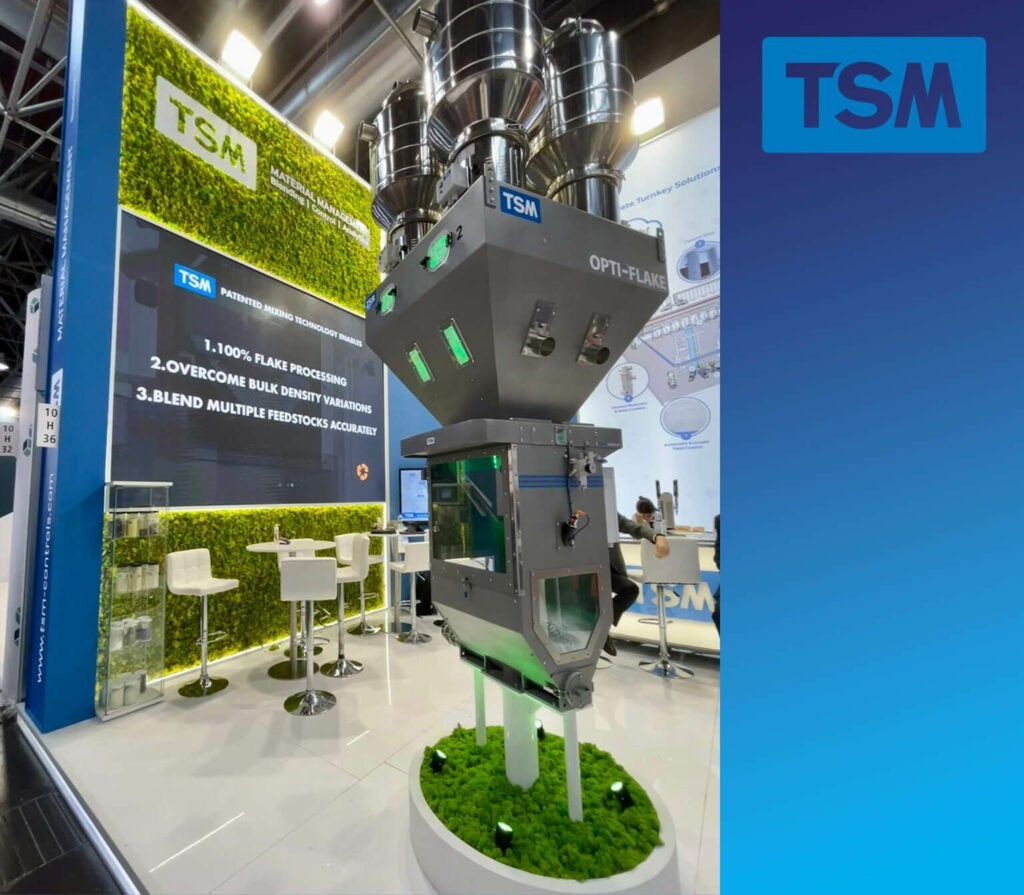 Combined with high throughput of up to 1500kg (about 3306.93 lb.) per hour of low bulk density flake material and the TSM Patented reverse flight auger, this unit has capabilities to mix post customer recycle (Non-Pellet or Pelletized; Repro, Flake, Scrap in any % combination dynamically to create a pre-blend of material to then be fed onto the next stage of the process.
This capability helps to counteract some of the issues when using a traditional blending silo that can be contaminated if any bad batch of material is introduced.
This unit was developed on the back of clear feedback from existing clients that drove us to adapt our technology to meet the needs of the plastics industry, allowing our clients to use increased post-consumer recyclates of all bulk densities and particle geometry in efforts to create a more sustainable and resource-efficient economy. The Result; Opti-Flake.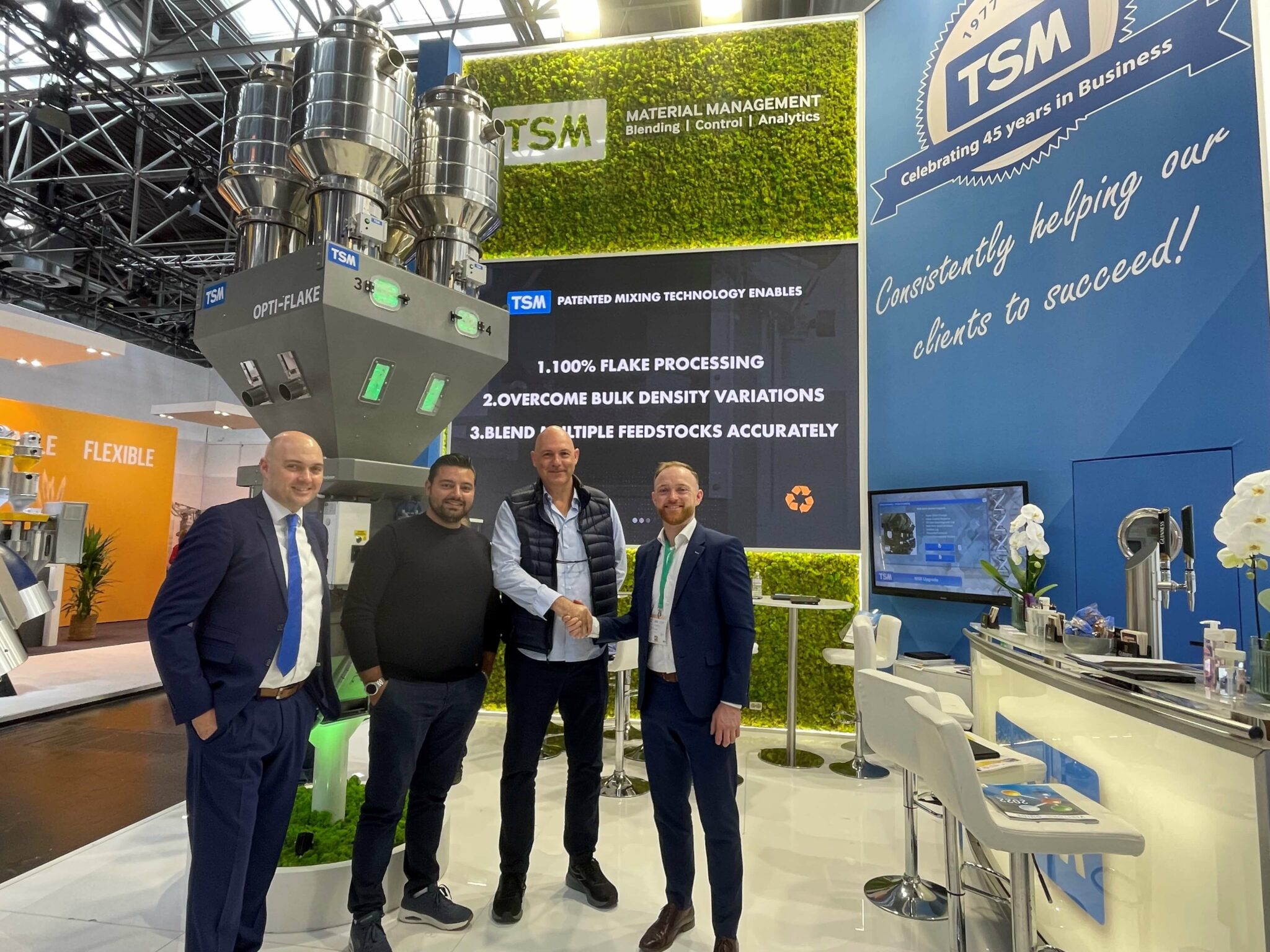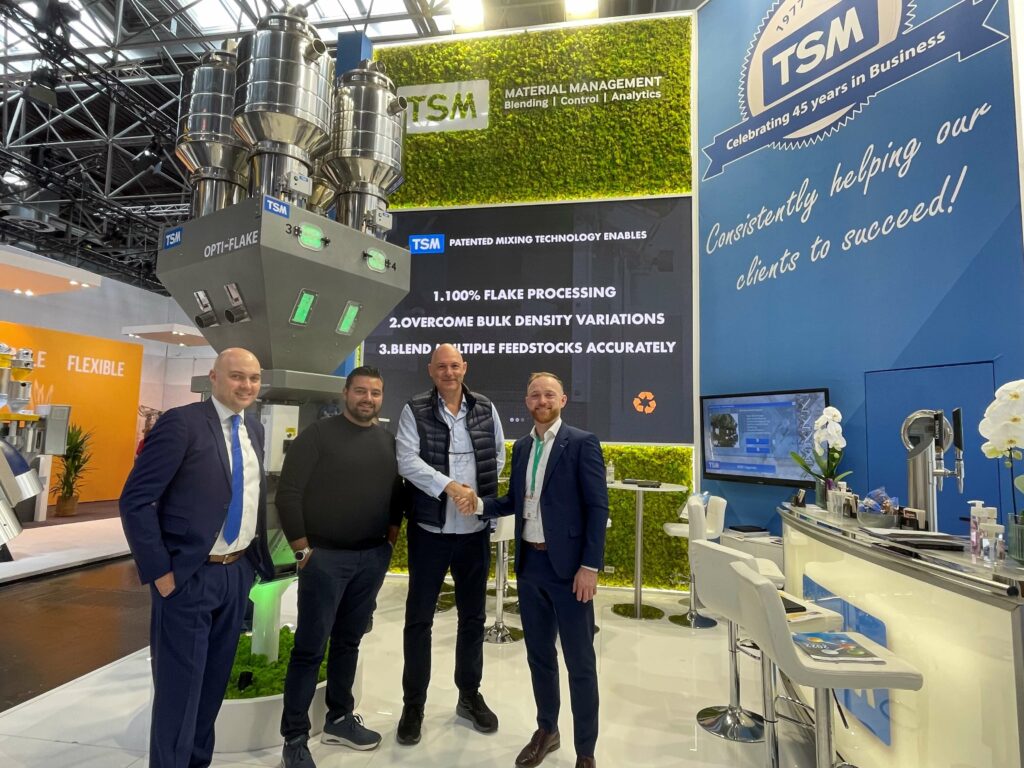 For more information on our Opti-Flake, contact [email protected]
Along with our Opti-Flake taking center stage, we unveiled our:
1. New 8th Generation Controller, The EPC (Expanded Platform Controller)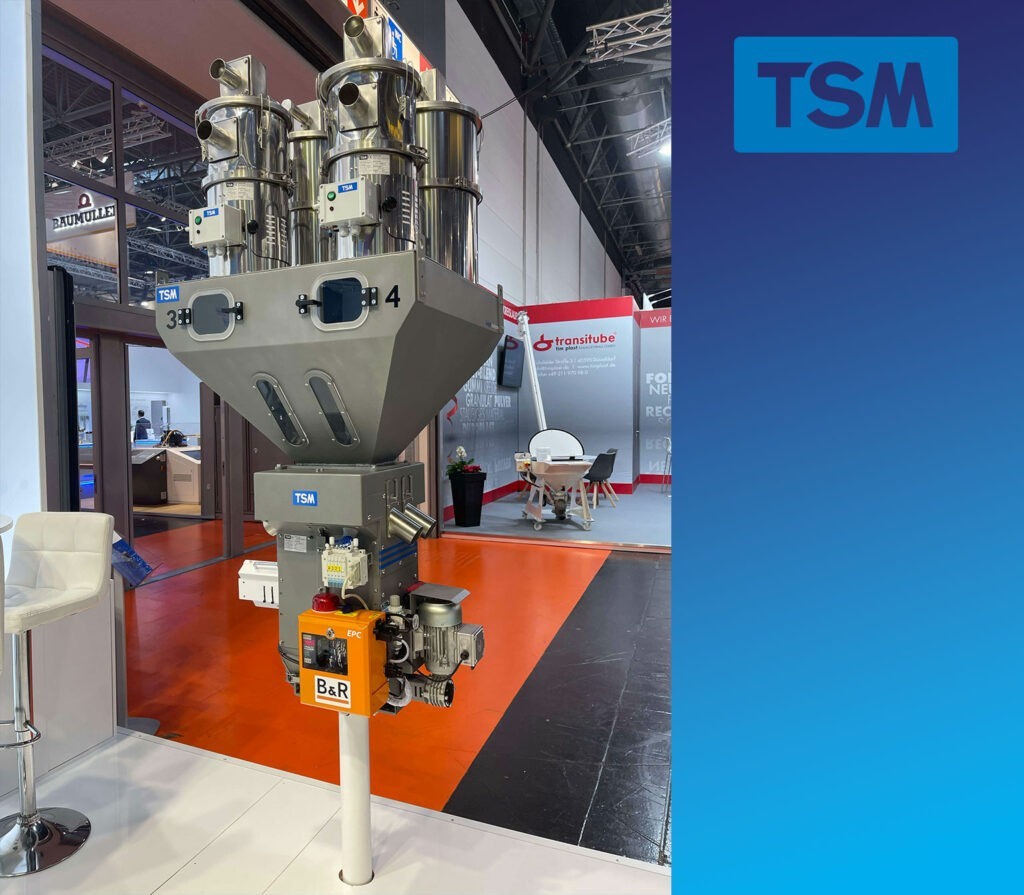 Through the introduction of the latest 8 generation controller; The EPC TSM is offering the latest state of the art controller platform powered by B&R. The EPC is latest generation controller as an alternative platform with potential for future expansion – Allows us to access the full smart factory from B&R; https://www.br- automation.com/en/technologies/industrial-iot/
2. Air Ring and Auto-gauge Systems equipped with Cloud based IIoT (Industrial Internet of Things) services which will turn your factory into a Smart Factory.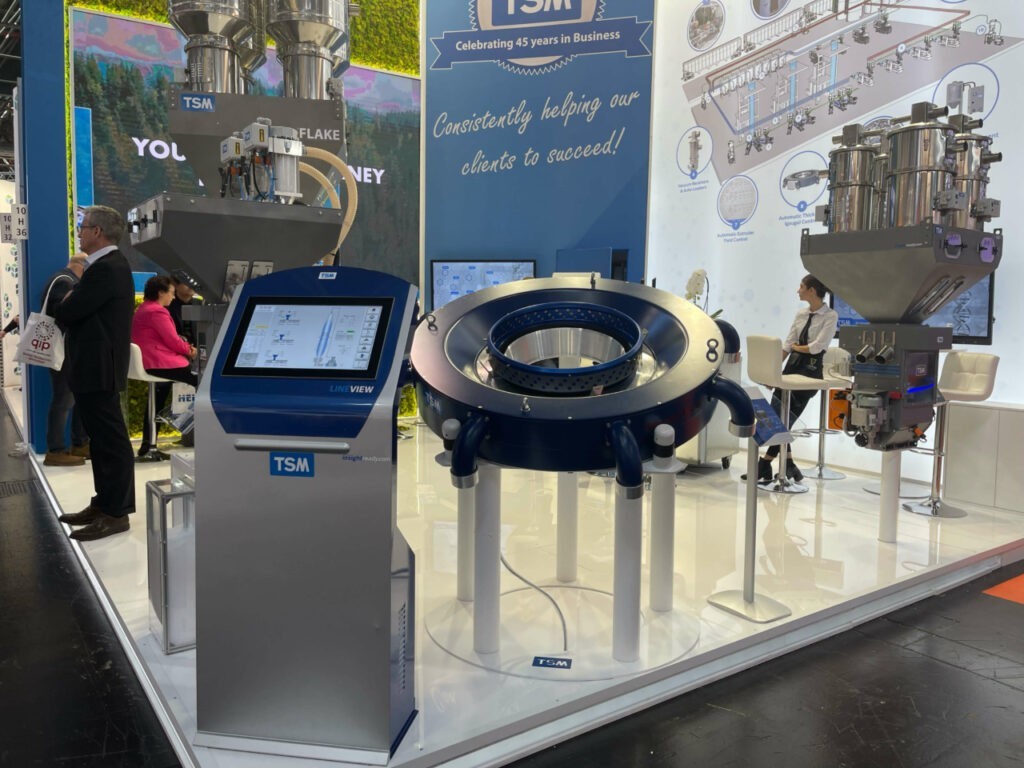 Our latest Air Ring on offer has been developed through rigorous practical tests based on substantial fluidic studies alongside input directly from our customers.
It comes with a significant range of benefits:
Improved film tolerances
High efficient cooling rates
Quick response times
Maximum air-flow
Minimum pressure drop
Low power consumption
Quick return on investment
Optimum productivity and quality
Absolute even air distribution
Excellent bubble stability
Easily to retrofit to existing lines
Dies Sizes from 100mm to 900mm
Quick response times
3. Opti-X Blender Series; Auto Yield Control: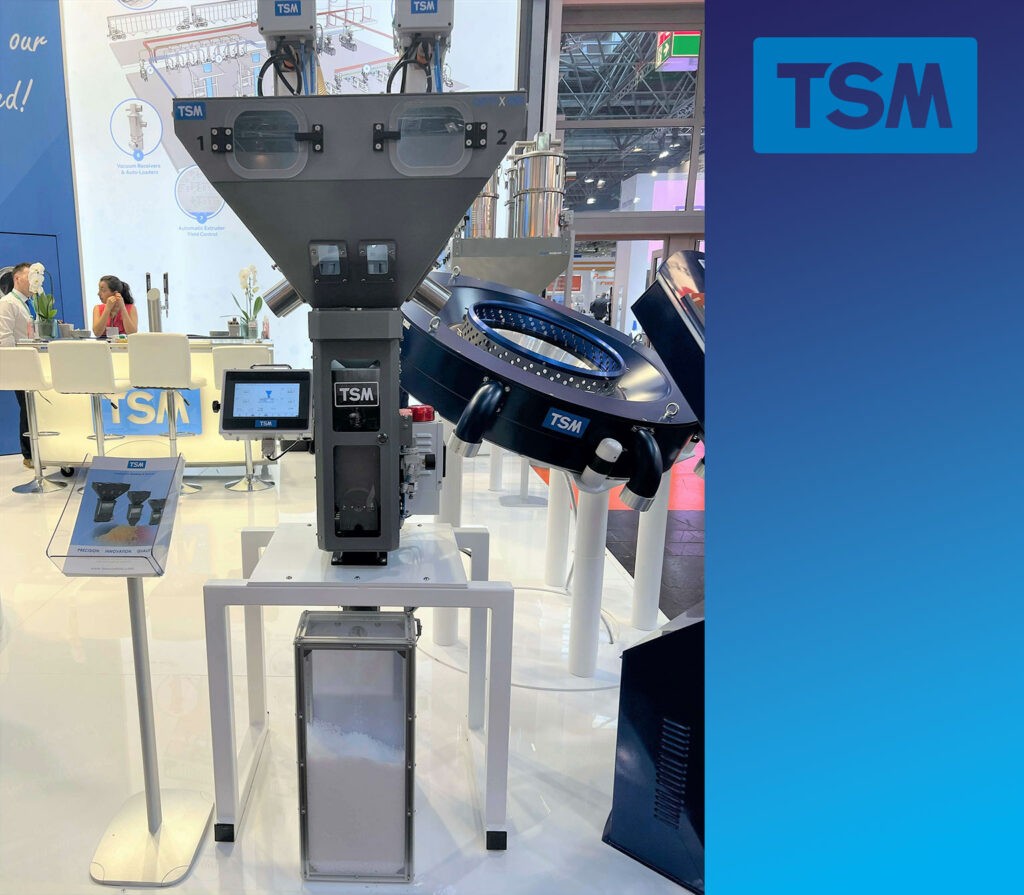 Blending Technology at its best. TSM's Opti-X Blender series is specially designed for extrusion applications and incorporates patented Insight enabled technology based on Industry 4.0 platform with the following benefits:
Continuous homogeneous mixing
High accuracy dispensing up to +/- 0.01%of batch
Mixing consistency from batch to batch of+/- 0.02%
Can handle up to 6 different materials
Reduced labour costs
Automatic order changes
Rugged rigid design, built to last
Easy to use operator interface
Automatic Yield Control utilizes the material real time consumption into the extruder to automatically control the extruder speed (output) according to the desired gram per meter setting to deliver automatic regulation of the end product characteristics.
A significant range of benefits can be realized from this set up:
Higher end product yield
Reduced scrap rates
Improved end product quality
Reduced manual labor requirements
Faster order / roll changes
Connecting Businesses
Like every year, K 2022 featured an engaging schedule of talks and panel discussions on research, science, and services, as well as discussions with industry experts on Industry 4.0, the connected value chain, and IIoT, as well as advancements in the plastics and rubber sectors. One of these talks hosted by TSM was delivered by Caitriona Mordan of ATIM Cluster.
The ATIM cluster supports the digital transformation of manufacturing SMEs, and companies along their value chain. In an "All-Ireland Approach to Polymer Competitiveness" discussion many businesses gathered for a networking event at TSM Stand to connect fellow companies in the polymer industry and support the competitiveness of polymer companies across the island of Ireland.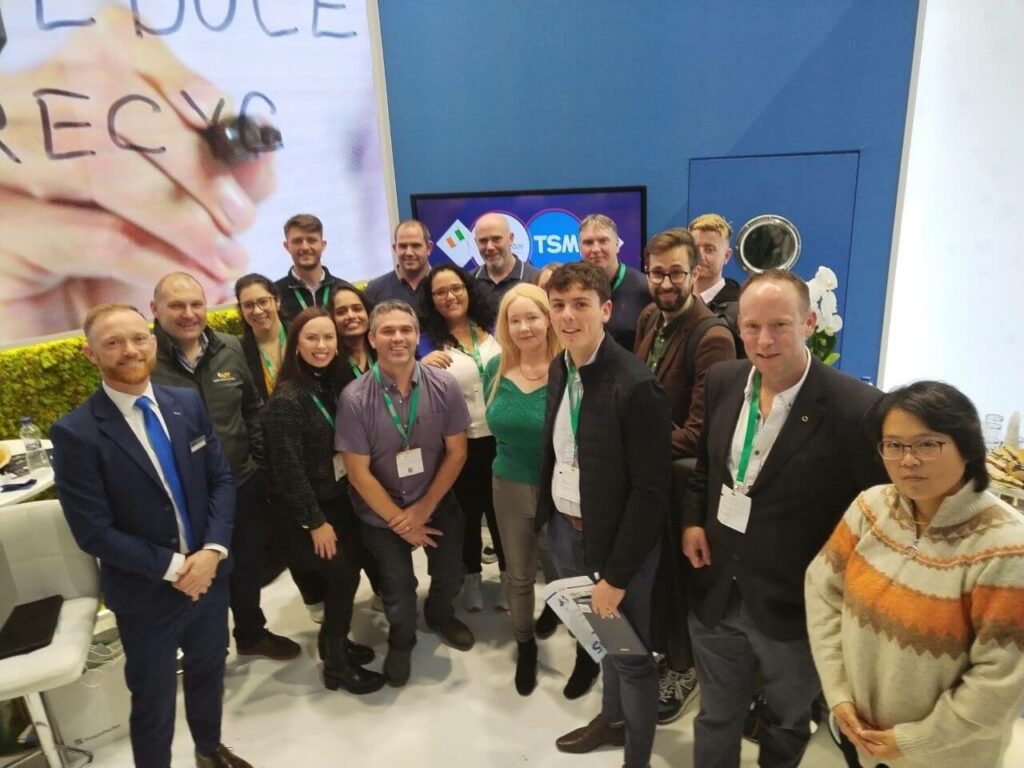 Some of the attendees attended the Irish ATIM Cluster Networking Event at TSM's Booth.
All Work, Some Play.
You would be forgiven to think it was all work no play, however like every other K show, TSM put out all the stops to show Irish hospitality. Serving Guinness on tap at our booth each day and hosting a K celebration event at O'Reilly's Irish Pub, Dusseldorf were many of our customers, sales partners and new connections joined to celebrate the return of large-scale exhibitions and in person networking events.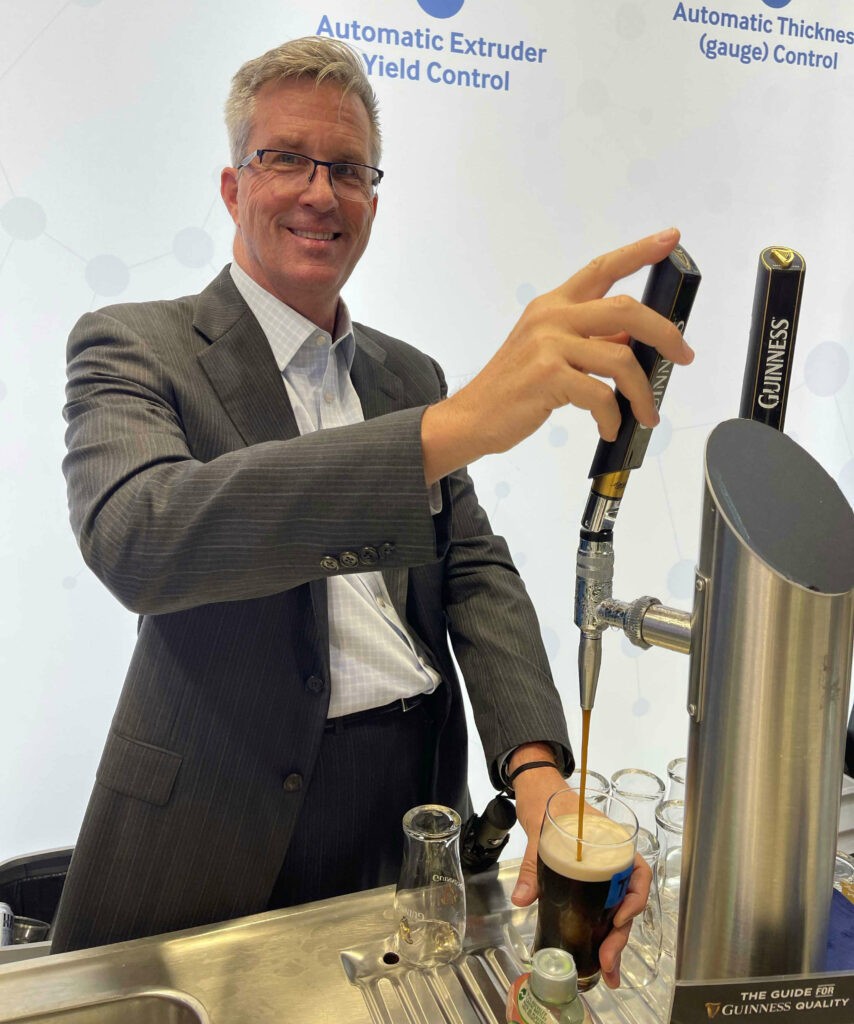 TSM North American Sales Partner; Andrew Haesler getting accustom with Irish Hospitality.
What's Next for TSM
At the exhibition, it was clearly clear that the worldwide market is significantly influenced by digitalization and innovative software development. With challenges of increasing productivity, processing of difficult materials such as biomaterials, handling of high temperature applications, Plastic taxes and meeting the challenges of the regrind tax, TSM amongst many other exhibitors led the way in delivering solutions to meet these impending challenges.
As an innovation-led business celebrating 45 years in business TSM looks forward to the weeks, months, and years ahead as we meet the needs of processors in the plastics industry. Along with significant investment in R&D, we have purchased a new premises which will facilitate the growing demand of our products and allow the company to scale its innovation as we continue to search for new ways to meet the three key drivers of plastic production in 2023, circular economy, climate protection, and digitalization.
With a lot of uncertainty for 2023, cost in materials, logistics and supply chain, it is reassuring to know TSM's machinery is built with technology which maximizes return.
If you have any questions in relation to our products, or any of the issues discussed in this blog, reach out to us at [email protected] and our expert engineering and sales staff will be in touch to help you with your query.