TSM Control Systems' Pre-feeding Solutions Transforming the Recycling Landscape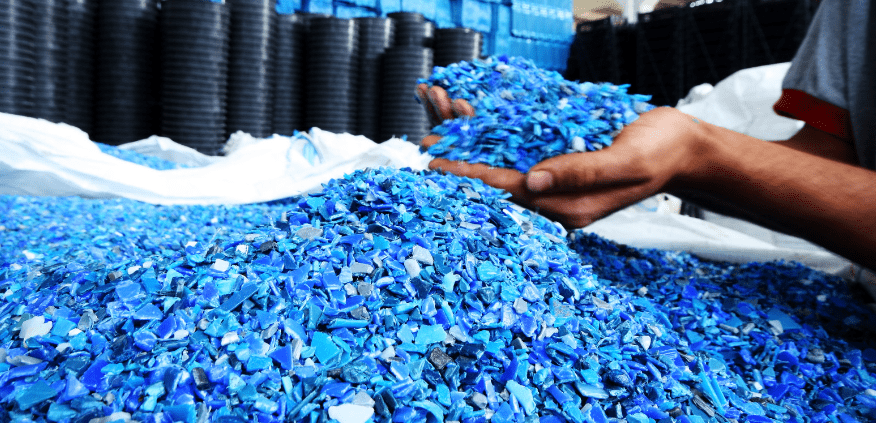 The Positive Impact
In our collective quest for a more sustainable future, the global business community is actively exploring and implementing innovative solutions that can help reduce waste and boost efficiency. A key catalyst in this transformative journey is the application of pre-feeding in the recycling industry. This often overlooked first stage in the recycling process is proving to be a game-changer, laying the foundation for subsequent stages and revolutionizing the recycling landscape.
The Power of Pre-feeding Solutions: Elevating Efficiency and Beyond
Pre-feeding solutions streamline the recycling process by effectively handling and preparing materials for subsequent processing stages. These solutions are ingeniously designed to increase operational efficiency, reduce waste, and enhance the quality of output. By assuring a smooth, uninterrupted flow of materials, pre-feeding solutions can significantly decrease production time and costs.
TSM Control Systems, a global leader in the industry, offers a suite of pre-feeding solutions that deliver an array of benefits, including the ability to:
Dynamically adjust the blend feeding into the recycling line, which is particularly advantageous when handling multiple feedstocks with varying Melt Flow Indexes.
Measure and control the blend of each material being added gravimetrically to ensure accurate blend ratios.
Accurately monitor the materials being fed into the process using gravimetric weight control.
Upcycle low-cost feedstocks by accurately adding selected additives, thus creating a product that meets the demands of high-end applications. This process enhances the value of otherwise low-value materials.
Control material consumption in real time in the factory to ensure the accurate and efficient use of all materials.
TSM Control Systems' pre-feeding solutions, shown in the recent recycling line installation diagrams below, are leading the way in this transformation process.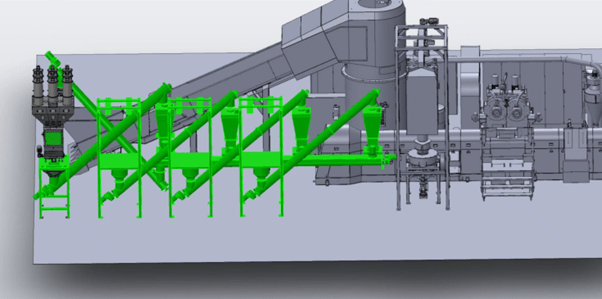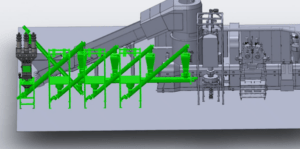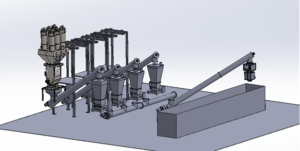 TSM Control Systems: Driving Pre-feeding Innovations for Recycling Lines
TSM Control Systems is at the forefront of driving innovations in the recycling industry. Their pioneering solutions, which offer numerous benefits, have given a significant boost to plastic processors worldwide. One of their notable achievements is the development of pre-feeding solutions for a new recycling line (pictured above), enabling the production of plastic pellets from waste flake and regrind.
Opti-Mix: The Heart of Pre-feeding
Central to TSM's pre-feeding solutions is the Opti-Mix Gravimetric Blender. This cutting-edge blender plays a critical role in enhancing the quality of the feedstock, ensuring accurate blend ratios, and facilitating dynamic adjustments in the blend feeding into the recycling line. This is especially advantageous when handling a variety of feedstocks with differing Melt Flow Indexes, creating a consistent feedstock for subsequent processing stages.
Conveying Systems: Guaranteeing a Smooth Flow
TSM Control Systems' conveying systems excel at overcoming challenges associated with handling lightweight and fluffy recycled materials. By ensuring a smooth, uninterrupted flow of materials, these systems considerably decrease production time and costs, significantly boosting the efficiency of the recycling process.
Pre-treatment Solutions: Priming the Feedstock
TSM's pre-treatment solutions prepare the materials for subsequent stages of processing. These solutions, which include sorting, shredding, densification, or extrusion, can alter the physical form of the feedstock to meet the requirements of specific recycling facilities. They play a pivotal role in increasing the polyolefin content of the feedstock, removing contaminants, and enhancing the overall quality of the feedstock.
Pneumatic Vacuum Systems and Pumps: Safeguarding and Streamlining Transportation
TSM's pneumatic vacuum systems and pumps are designed to transport materials in a manner that minimizes damage and contamination. They ensure the safe and efficient movement of materials through the various stages of the recycling process, contributing to the overall effectiveness of the recycling line.
Silos and Storage Solutions: Streamlining the Flow
TSM also offers a variety of storage solutions, including silos. These storage options provide a secure and efficient method for storing different types of materials before they are introduced into the recycling process. This helps manage the flow of materials, ensuring a steady supply of feedstock for the recycling process.
Overcoming Challenges with TSM Solutions
Despite the considerable benefits of pre-feeding solutions, TSM Control Systems is fully aware of the potential challenges and limitations associated with their implementation. They excel particularly in handling lightweight and fluffy recycled materials, which often come in low-quality post-use plastic bales. However, TSM's advanced solutions effectively navigate these obstacles, enabling a smoother recycling process.
TSM Control Systems, through their advanced pre-feeding solutions, is not only optimizing efficiency and profitability for recycling facilities but also contributing significantly to environmental preservation. Their technological prowess is carving out a path towards a more effective, sustainable, and beneficial recycling landscape, helping to foster a cleaner, greener world for future generations.
The Environmental Impact of Efficient Recycling: A Step Beyond Profits
These technological advancements not only increase efficiency and profitability for recycling facilities but also carry significant environmental benefits. By enhancing the recycling process, waste is reduced, the demand for virgin materials is lessened, and harmful emissions associated with new plastic production are curbed. The ability to process 100% regrind and non-free flowing materials means even hard-to-recycle plastics can be reintroduced into the manufacturing cycle, further minimizing environmental impact.
Looking Forward: The Exciting Future of Recycling
As we gaze into the future, the potential of pre-feeding solutions becomes even more thrilling. The continued development and refinement of these technologies promise to deliver even greater efficiencies and environmental benefits. With industry leaders like TSM Control Systems paving the way, we can anticipate a recycling landscape that is more effective, sustainable, and beneficial for both businesses and the environment.
When we embrace these innovative solutions, we are not only transforming the recycling landscape but also taking a significant step towards a sustainable future. The impact of these pre-feeding solutions on the recycling process is a testament to the power of innovation and the importance of sustainability in our world today.
Kickstart your green journey and transform your business today
Let's work together towards a greener, more sustainable future. Get in touch with TSM Control Systems today and elevate your recycling processes to new heights.